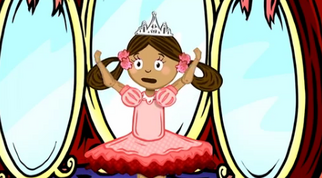 Molly is a living Ballerina doll who was first overcome by stage fright when she wished to perform a show for her friends. Eventually she learned that she just has to take a deep breath to calm herself, and believe that she can dance and with the help of the Super Readers, she did it!
Her age was 9. Her episode page can be found here: Molly's Dance Show
Molly is voiced by Madison L. Scott.
Personality
Molly is a perky ballerina doll who absolutely adores to dance. She's usually very happy or in a good mood, but as she's never danced before an audience, she had become stricken with stage fright much like Princess Pea until the Fairy Princess gave her a magic pair of dancing slippers that would help her.
Molly originally did believe in the slippers until the Fairy Princess claimed she no longer needed them. At first Molly was scared, to the point of bursting into tears but with the help of the others she overcame it!
Now she can dance freely and happily in front of all her friends. She had also made sure that Super Why and friends could see the final performance for the day, as thanks for their help.
Appearance
Molly is a lightly tanned-brown skinned girl with black colored eyes. She has small eyebrows matching the same shade of brown as her hair, which is shown to be very long but pulled into "hoop"-pigtails to the side of her head. She wears pink flowers in her hair, along with a silver crown. Also noticeable is that Molly may wear makeup. Having pale lipstick/gloss around her mouth, pink blushy cheeks, and burgundy eyeshadow.
Molly is depicted in a pink ballerina dress with princess sleeves and slightly darker pink markings, along with white flowery neck, and very thin lines all over her skirt. She also has an underneath skirt layer that is red. She has on plain pink ballerina slippers. The special magic slippers she wore were crystal/glass white, but they looked like normal slippers.
Quotes
'"Breathe, believe, begin; when you must believe in yourself, and dance, dance, dance!"
Trivia
Molly looks like she may be Indian, or of India descent.
Gallery